Coal-Trol Igniter Kit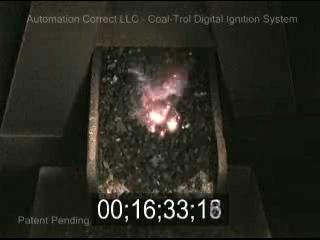 The Igniter has arrived!
Over three years in development, the Coal-trol Igniter is a new accessory for use with your Coal-trol Digtial stoker control system. When installed, the igniter and Coal-trol thermostat will provide user initiated ignition and burnout of your stove. When you select to ignite the stove our automatic ignition sequence will start, feeding fresh coal onto the ignition element, heating up the coal to ignition temperature, then feeding the superheated coal over the grate's air holes to ignite the coal fire.
The Igniter Kit makes starting your stove as easy as pushing a button. No more having to use a fire stop, carefully constructing a starter fire and hand feeding coal, or using smoky pyrotechnic starter bags. Also no more dust and mess, because the Igniter Kit allows you to start a fire without ever opening your stove. And because starting the stove is made so easy, you can use your stove earlier in the Fall and later into the Spring.
Installation of the Igniter Kit requires both a 1/8" and a 1/2" drill bit. Use of a center punch is critical. You will be drilling into cast iron and straight drilling is important, so use of a drill press is highly recommended. Lastly you will need a medium, flat blade screw driver designed for electrical work, not wood working (non-flared blade head).
** Igniter Kit works only with the Coal-trol Digital™ stove control system.**
** Installation of the Igniter Kit requires permanent modification of your grate. Automation Correct LLC takes no responsibility for damage to your grate. **