What's New
January 1, 2010 - Effective as of January 1, 2010, the EPA has discontinued the Energy Star rating program for programable thermostats. The features and capabilities of our thermostats (including the TS2ES "Energy Star" model) have not changed, but we are forced to stop using the Energy Star label on all product art, documentation, and promotional materials. For more information on this and the ongoing efforts to draft a new specification please visit: http://www.energystar.gov/index.cfm?c=revisions.thermostats_spec
March 8, 2009 - Important bulletin! Owners of Keystoker Koker stoves from 2008-2009 with a Coal-trol Digital system installed should read this important bulletin on a convection blower issue that has been discovered. Bulletin includes full details and remedy.
April 23, 2008 - We're fast approaching the release of the Coal-trol Digital™ Igniter and the new 2008-2009 Coal-trol Digital™ stoker stove thermostat control systems. The Igniter has been three years in development in close cooperation with Leisure Line Stove company, producers of highest quality stove products and leaders in customer satisfaction and forward looking vision. Automation Correct is pleased to have this partner in growing and advancing the automatic stoker coal stove industry and we eagerly look forward to a great 2008-2009 season! The Igniter was recently demonstrated at the Leisure Line Stove company factory store open house.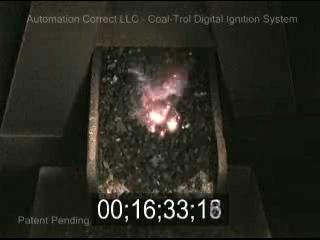 Click on the picture to download the video.
April 3, 2008 - Automation Correct LLC is proud to announce that Keystoker hot air stoves and furnaces will continue to be offered with Coal-trol Digital as optional, factory installed equipment through the 2008-2009 heating season. Soon to be announced new features and system options will be introduced in the Coal-trol Digtial product line in 2008, we're happy to be working with Keystoker to bring these enhancements to their customers.
March 31, 2008 - Hitzer's new coal stoker stove, with fully integrated Coal-trol Digital control and ignition systems, won a Finalist placement at this year's Hearth & Home Magazine Vesta Awards! Competing in the "Hearth Products, Other Fuels" category against more than 60 other entries, the Hitzer stoker stove tied for 2nd place. We congratulate Hitzer on this great achievement! Look in upcoming issues of the Hearth & Home magazine for articles on the HPBExpo, the Vesta awards and the Hitzer stoker stove with integrated Coal-trol Digital technology.